My Next Book
Coming in March 2017 from WW. Norton internationally, and McLelland and Stewart in Canada, ICE GHOSTS is fast-paced narrative non-fiction, with numerous revelations in an Arctic detective story for the ages.
Paul Watson with His Holiness The Dalai Lama, at the Tibetan leader's home in exile in Dharamsala, India.
Newseum Exhibit Washington, D.C.
Paul visits his old camera on permanent display at the Newseum in Washington, D.C.
Otter skull, Gulf Islands, British Columbia
A Face Only a Mother . . .
An orang-utan mom nuzzles her baby in the Indonesia's Borneo jungle.
Dawn Patrol
Afghan and Canadian troops, with a dog trained to sniff out improvised explosive devices and landlines, hunt for the Taliban at dawn in Kandahar province.
Off to See the Ice Phallus
Porters in the disputed Indian state of Jammu and Kashmir carry a Hindu pilgrim up a mountainside to the Amaranth cave, one of the religion's holiest sites, where the faithful see a phallic ice stalagmite as a Shiva Lingam, representing the god's generative power.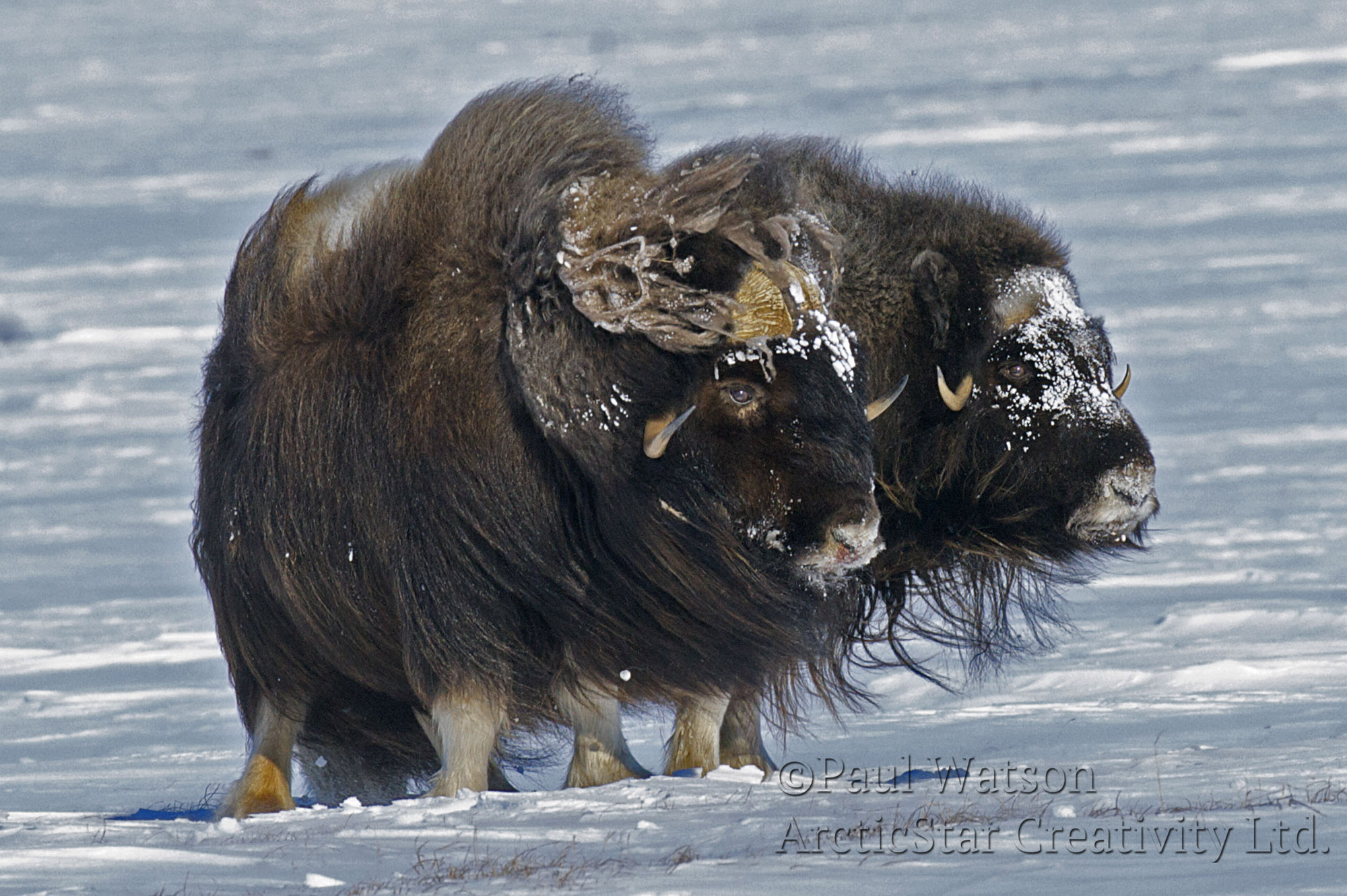 Walrus Love
Walruses cuddle in the spring sun in Norway's Svalbard archipelago.
Pop Travels Far
A Filipino boy on the island of Sulu lives in a village caught between Muslim rebels and U.S.-backed government forces, and where pop star Avril Lavigne is a welcome distraction.
Attack in Kashmir
An Indian paramilitary police officer watches for snipers during a militant attack in Srinigar, in Indian-controlled Kashmir.
Up in Flames in Kashmir
A member of India's security forces in Srinigar, capital of Indian-controlled Kashmir, watches helplessly as fire rages through buildings during a 2005 battle with guerrillas fighting for independence.
a Hard Rain is Gonna Fall
A storm moves in fast in Canada's northern wilderness.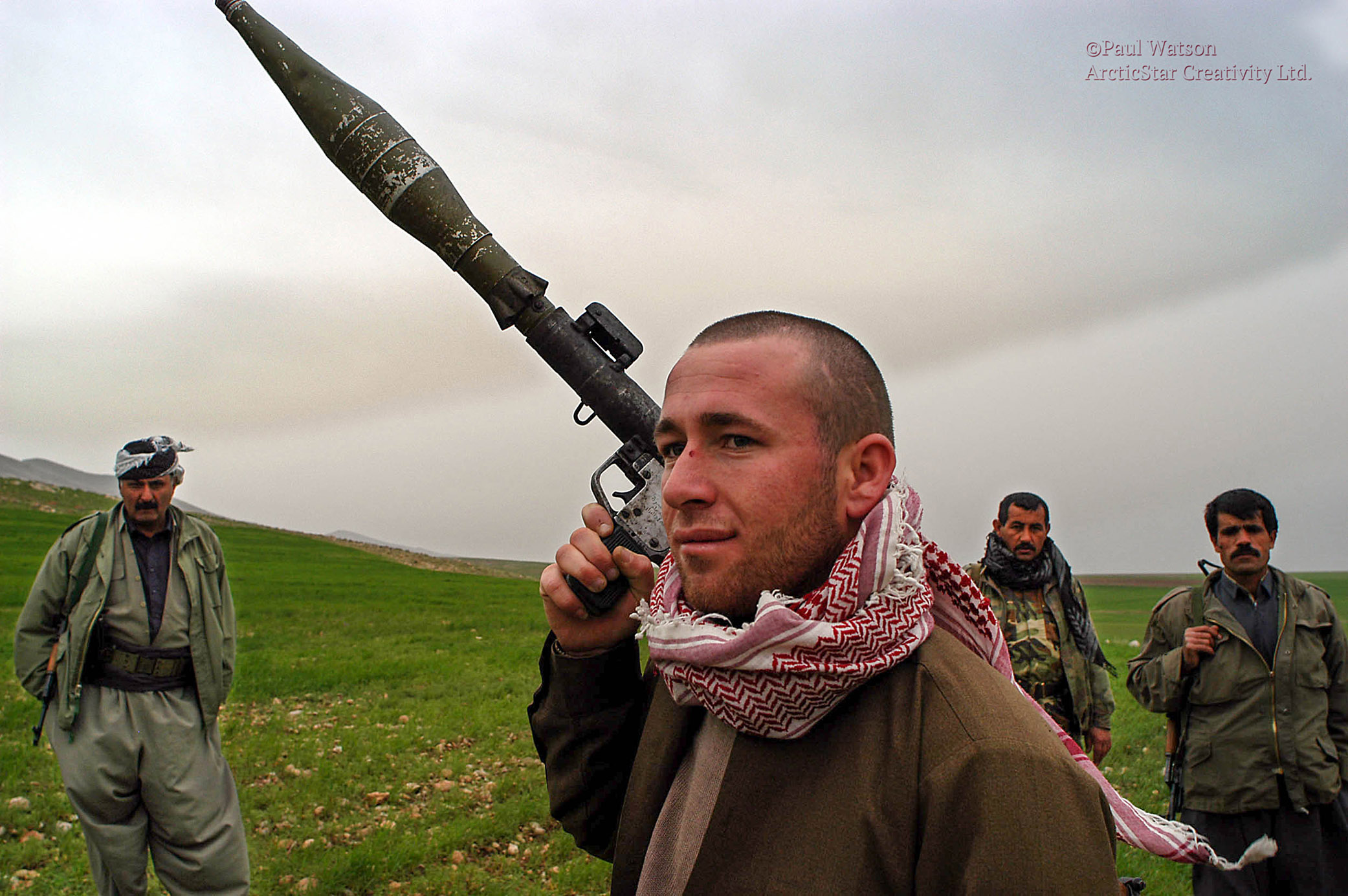 A Long War for Kurds
Kurdish peshmerga guerrillas prepare to advance on Saddam Hussein's retreating forces in northern Iraq during the 2004 U.S.-led invasion, which renewed Kurds' hopes for independence.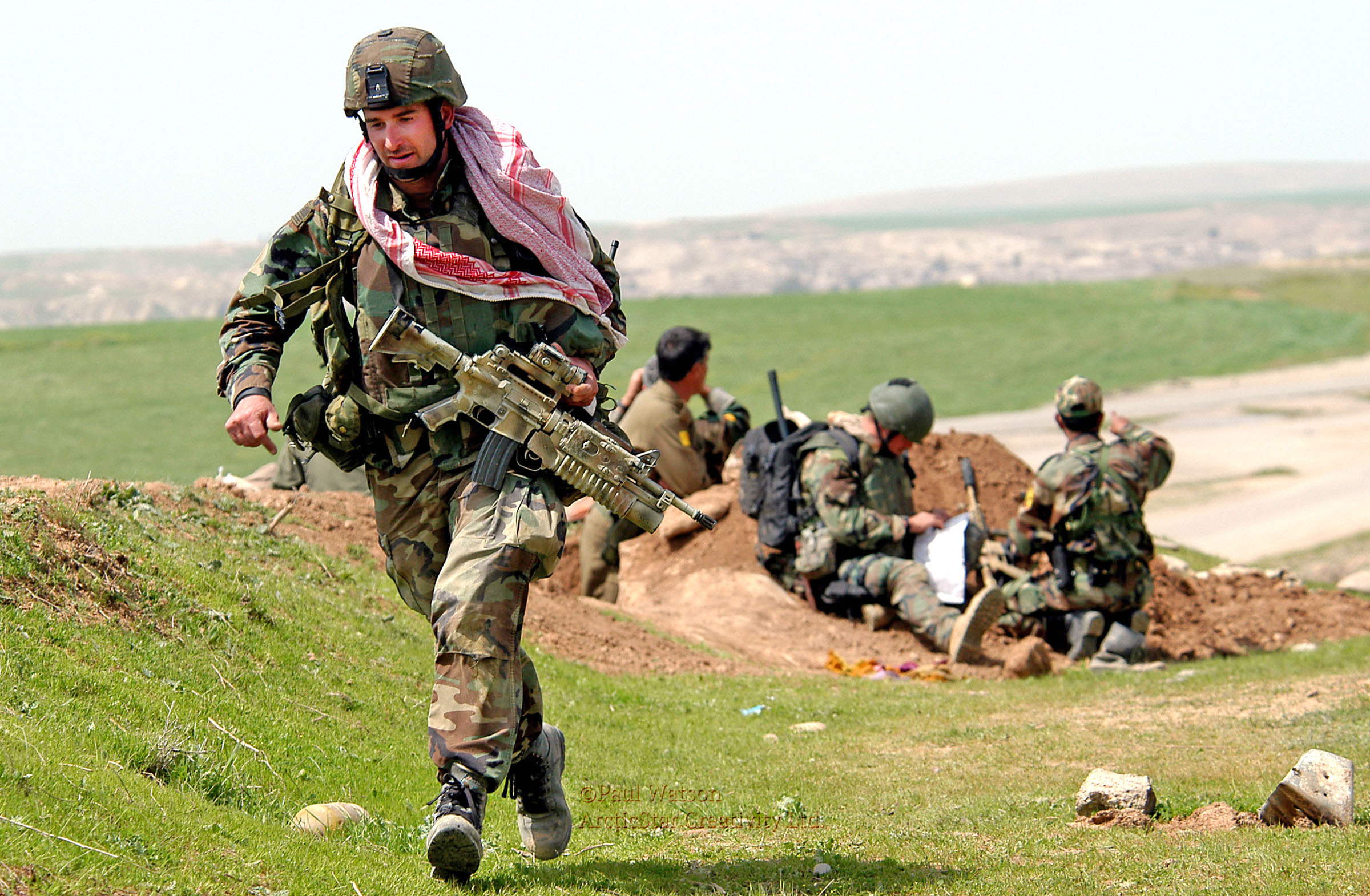 Invading Iraq
U.S. Special forces aid Iraqi Kurdish fighters as they battle Sadaam Hussein's forces retreating toward Mosul in 2004l.
With the Peace of Buddha's Smile
In the Footsteps of a Child
A Buddhist monk guides a boy at a monastery.
Beauty and the Beads
Smiling Bright
Terror of an Earthquake
Mohammed Wali carried his 2-year-old daughter Zakia Bibi for 10 hours dow a narrowest Pakistan mountainside in a desperate search for medical care 16 days after an earthquake devastated the region.
The Execution
Hobbling Ahead in Afghanistan
An Afghan war vet is forced to hobble through a howling blizzard after a minibus taxi gets stranded in Afghanistan's Hindu Kush mountains.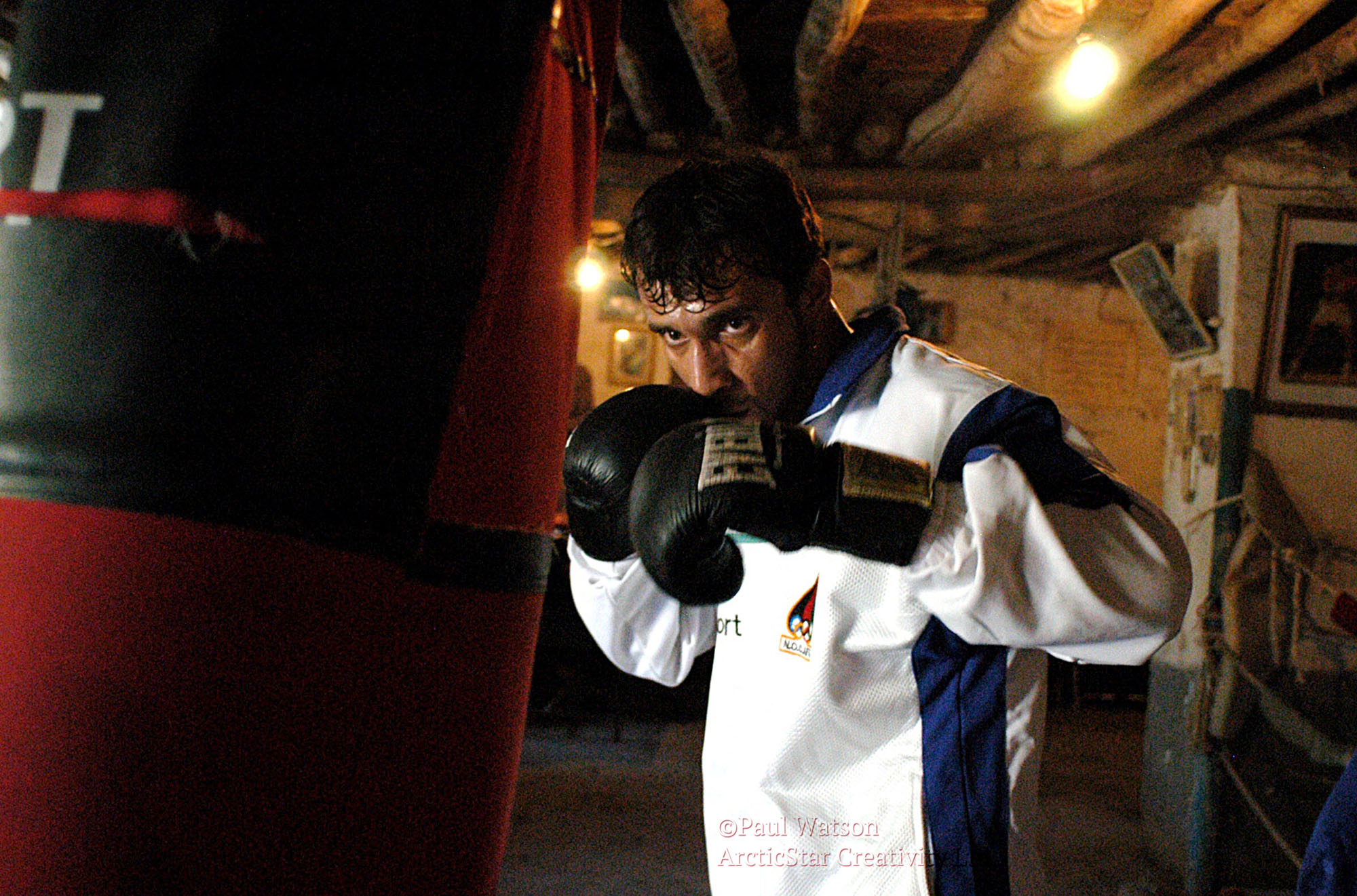 Hitting Hard in Kabul
Washing for Prayer
Boys learning the Koran do their ablutions before prayers in the northwest Pakistan madrassah where John Walker Lindh, the Californian known as the American Taliban, also lived and studied before fighting in the Afghan war, getting wounded and ending up in a U.S. jail.
Reciting the Koran
Boys learn the Koran by heart in the northwest Pakistan madras where John Walker Lindh, known as the American Taliban, also lived and did Koranic studies before joining the Afghan war.
Herding Sheep in Afghanistan
An Afghan shepherd boy tends his flock as winter approaches from the mountains.
Tree of Life Amid Death
A stubborn tree brings new life next to a grave site in the Afghan desert.
The Body Art of War
A soldier dripping in the heat of southern Afghanistan wears his philosophy of his life tatted on his arms.
Praying in Mother Ganges
A Hindu worshipper prays in the Ganges River, sacred to Hindus.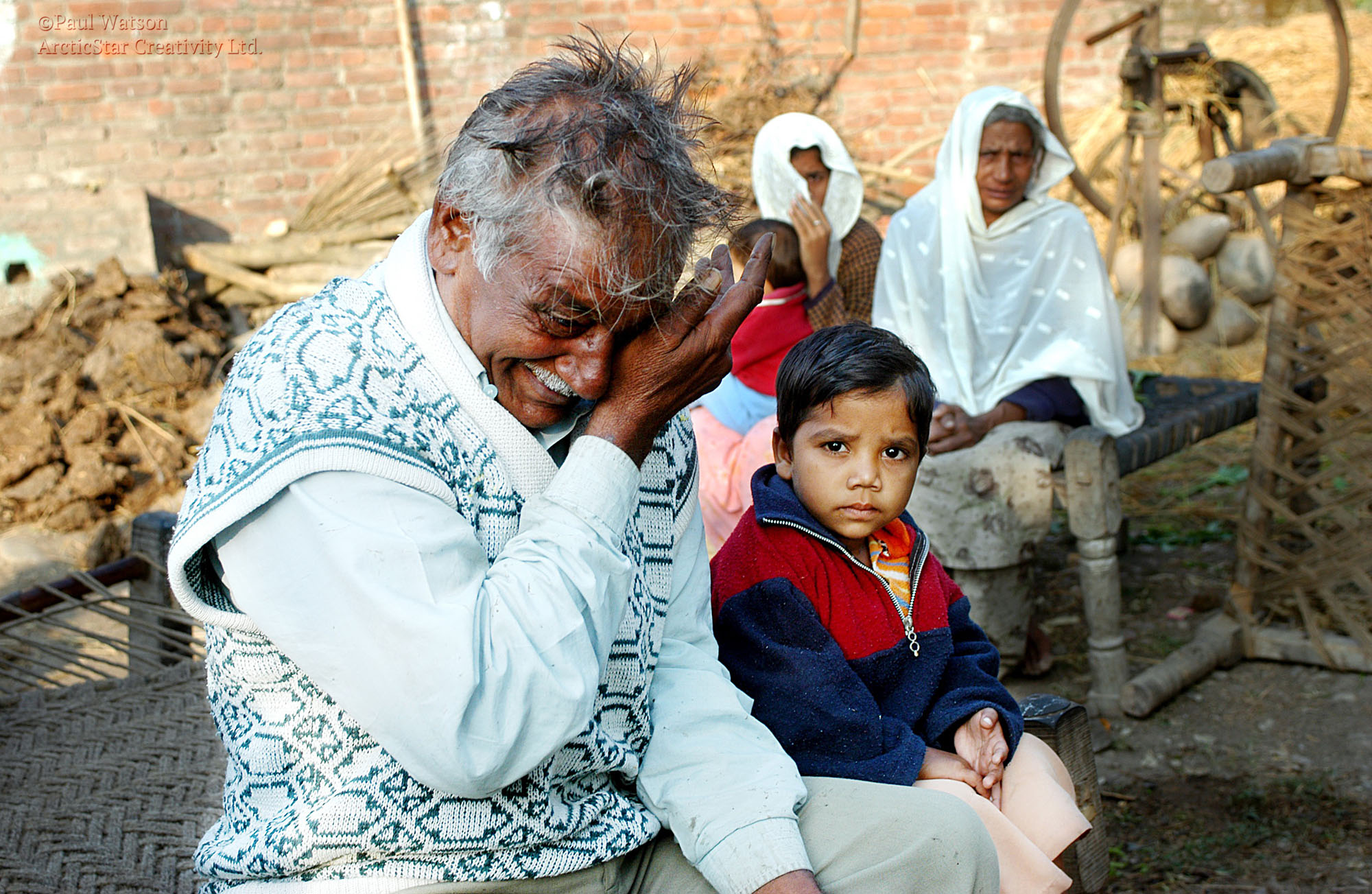 Weeping for Kashmir's Disappeared
A father weeps as he describes how his son disappeared after Indian security forces picked him up for questioning in the disputed state of Jammu and Kashmir.
Under the Gun
A member of Pakistan's security forces stands guard at an election rally in the port city of Karachi.
Fear or Favor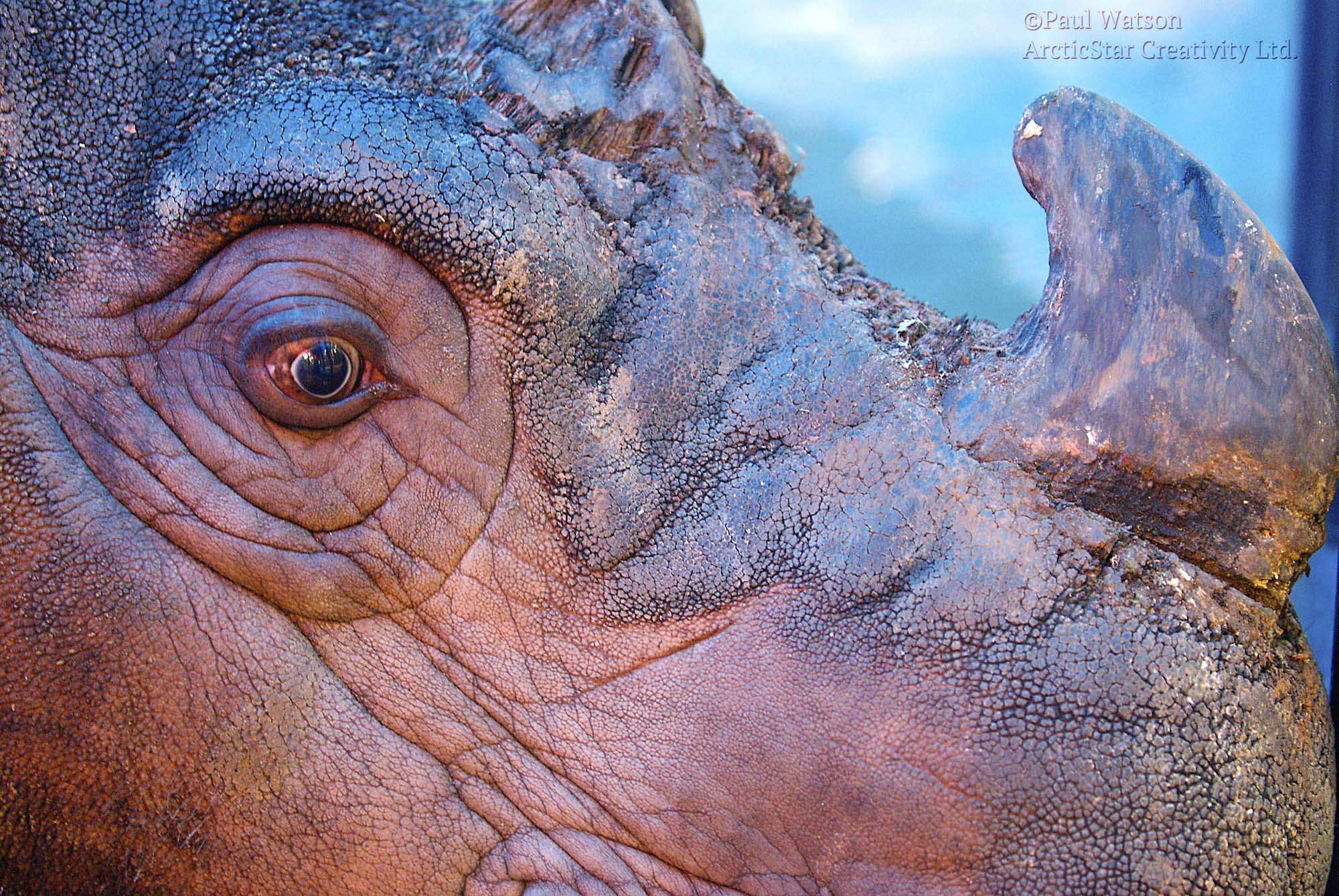 A Very Rare Rhino
The Sumatran rhinoceros is very rare and under threat as their habitat is lost to expanding palm oil plantations and other human encroachment in Indonesia.
A Gilded Buddha in Burma
Burmese worshippers pray in the golden glow of a gilded Buddha statue.
Orangutan thinking
An orangutan contemplates in the Sumatran rainforest.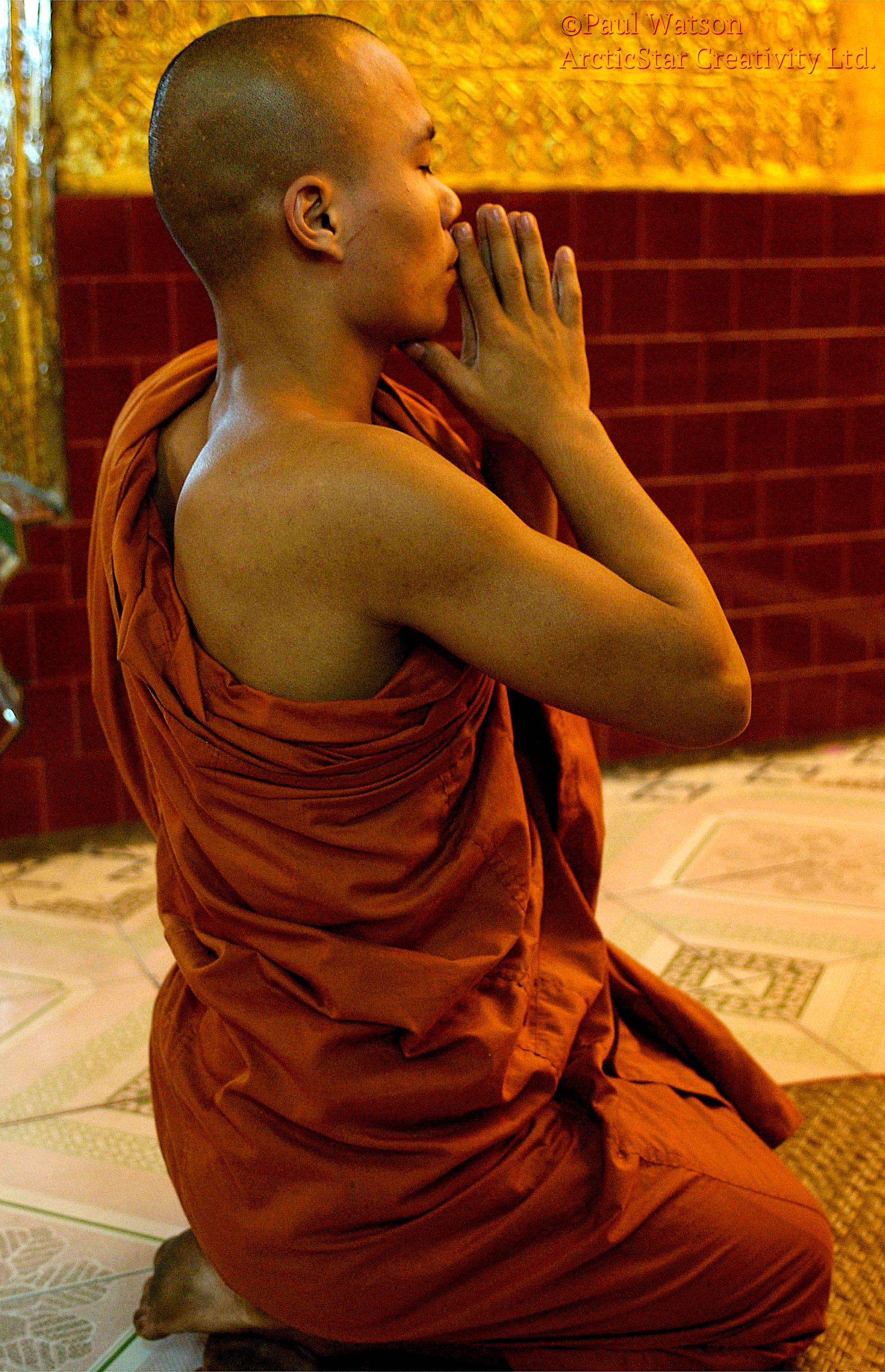 Kneeling to Pray in Mandalay
A monk prays in the warm glow of the 1,600-year-old Mahamuni Buddha image, gilded by worshippers who have rubbed on layers of gold leaf to show their devotion over the centuries.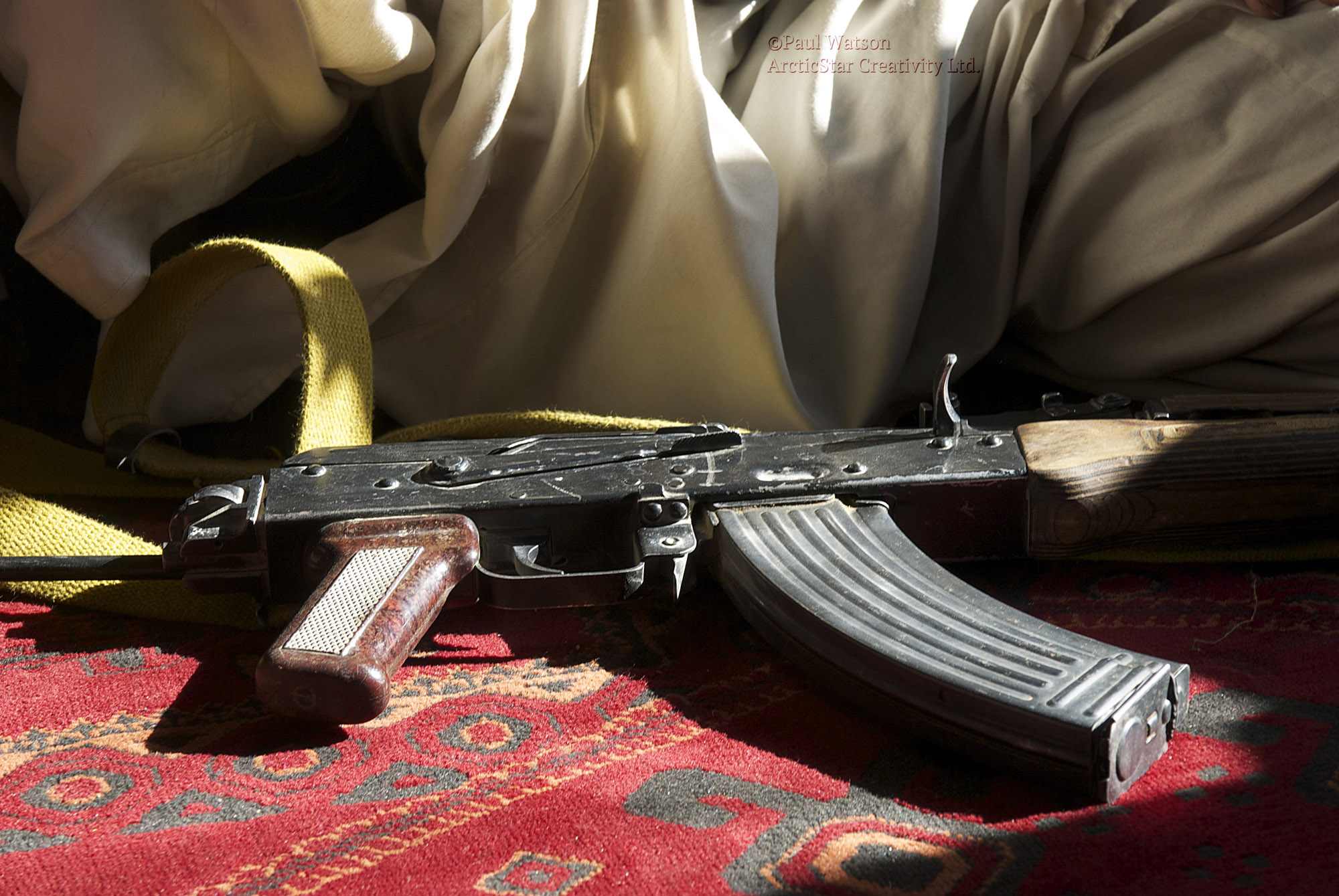 Taliban Kalashnikov on the Carpet
A Taliban fighter in Afghanistan's Ghazni region kept his AK-47 Kalashnikov assault rifle at the ready as I interviewed him and several other fighters in their village compound over glasses of steaming hot tea.
Sailing Away . . .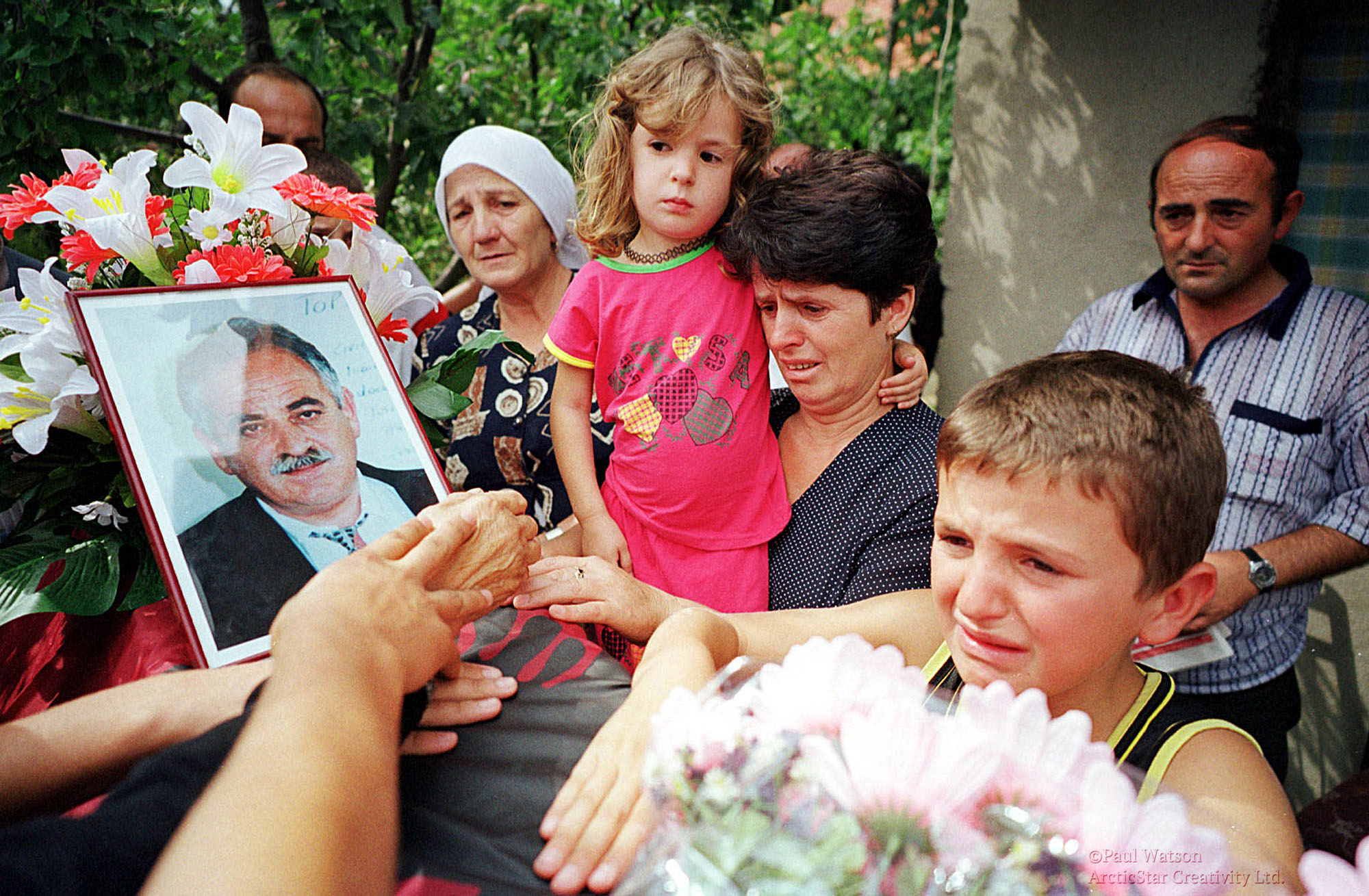 Mourning Kosovo's Dead
An ethnic Albanian family mourns a man killed in turmoil before NATO's 1999 bombing campaign, which led to Kosovo's split from Serbia.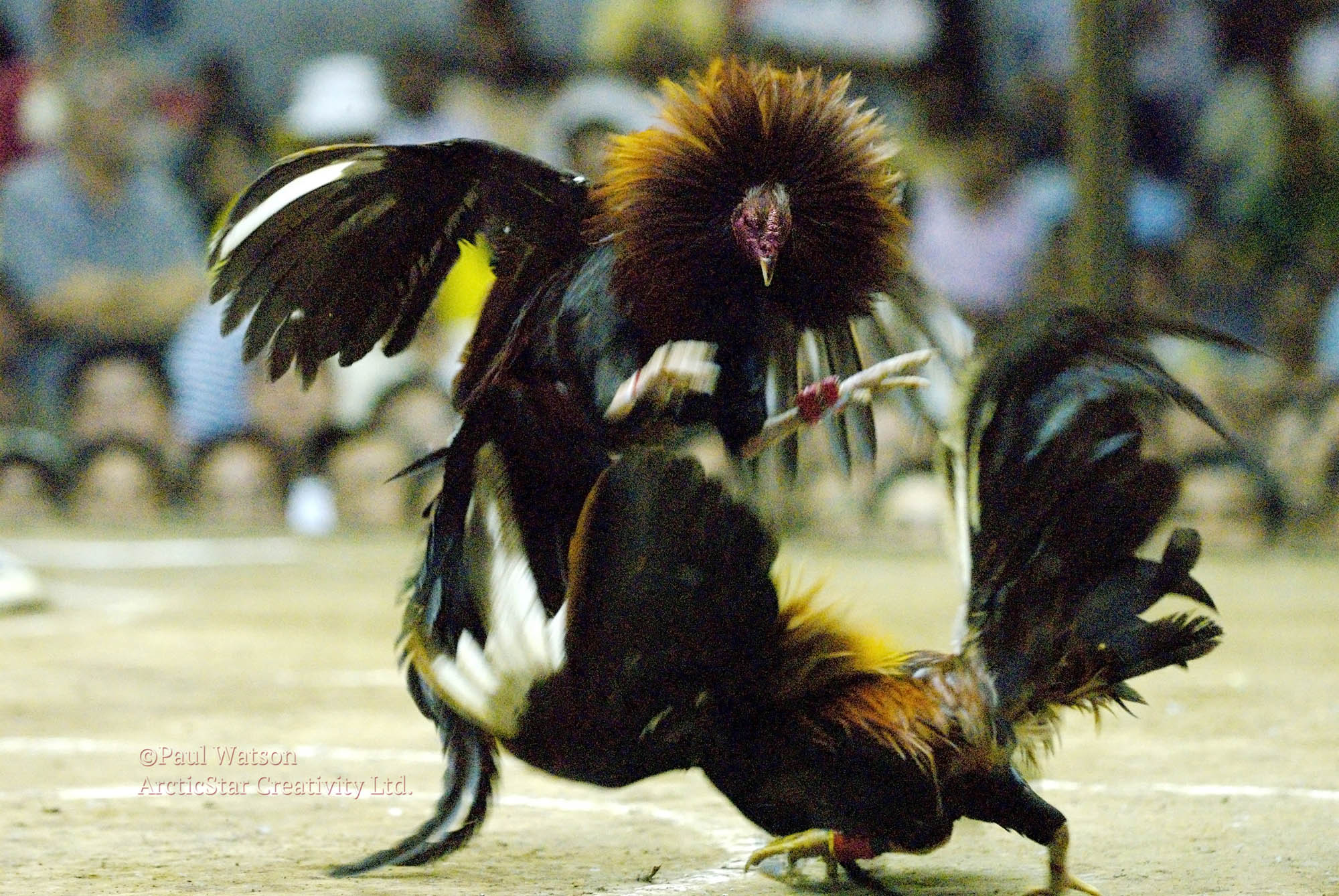 In For The Kill
A fighting cock goes in for the kill at a crowded Manila cockfight, where betting was as fast and furious as the matches.
Pork On a Stick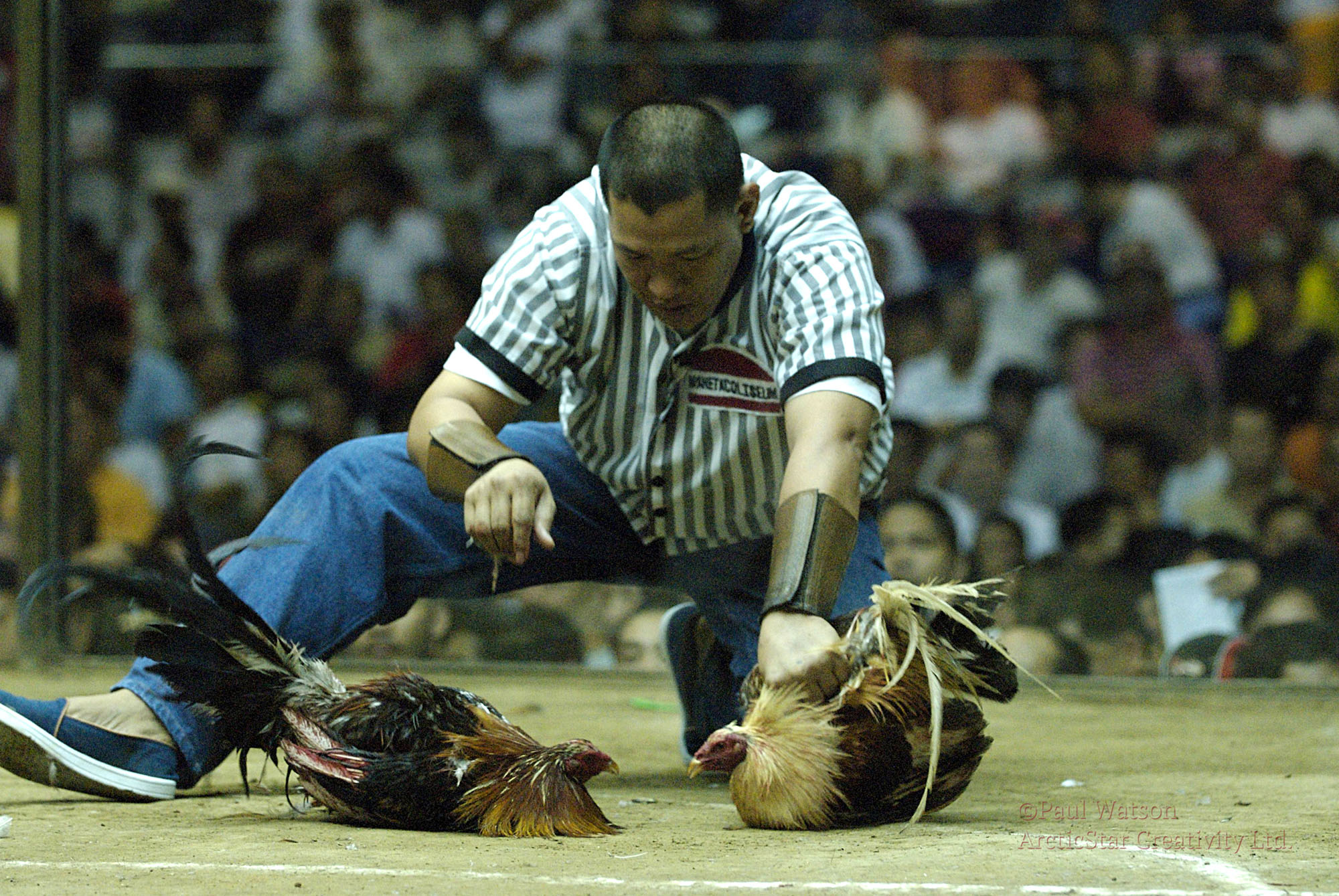 Cockfight Night in Manila
A cockfight referee gets the birds ready for a death match fought with razor blades strapped to their legs.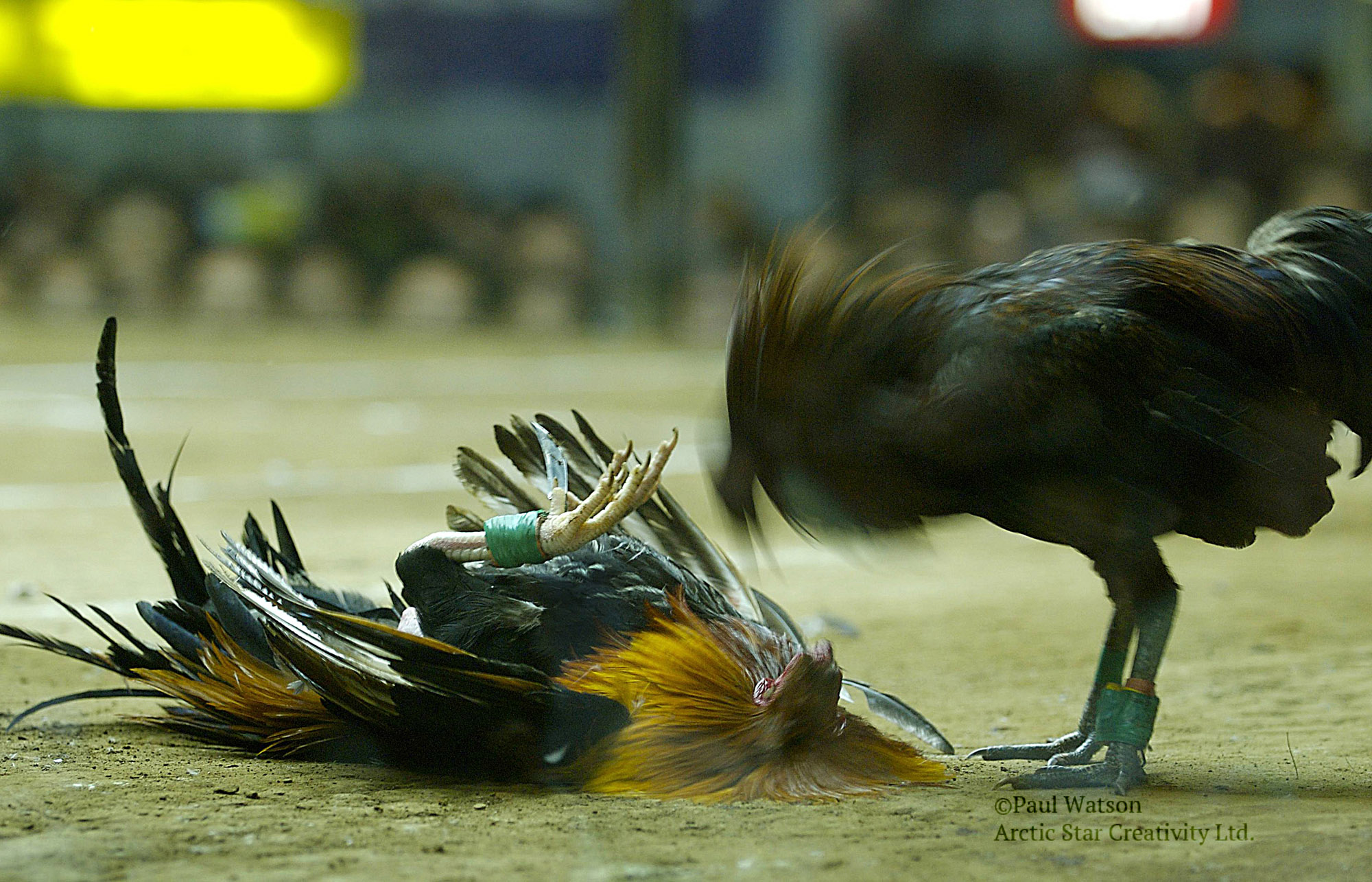 In for the Kill
A champion fighting cock goes for the jugular as its opponent lies helpless, the lethal razor on its leg useless, in a Manila stadium.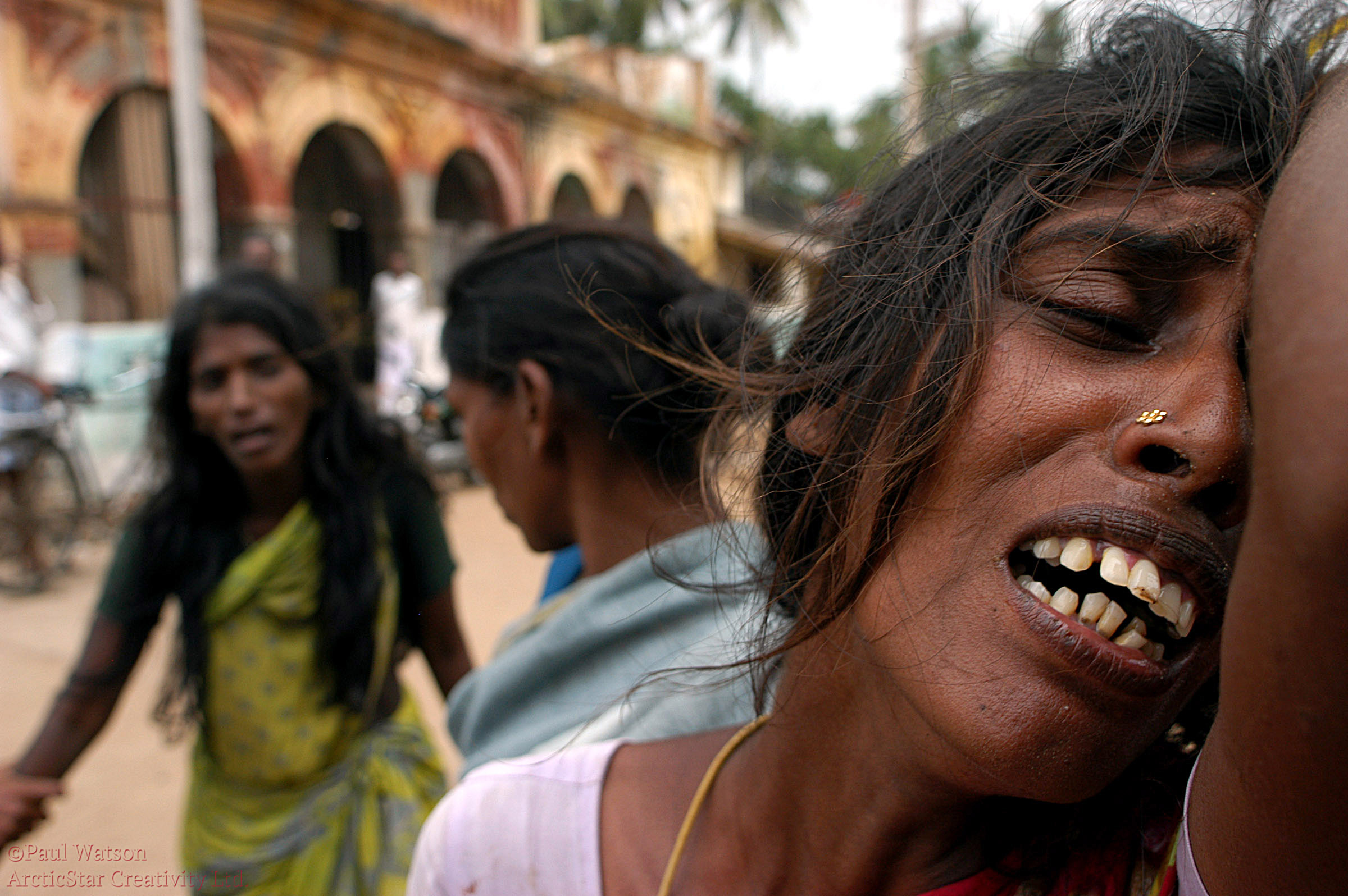 A Wave of Grief
An Indian villager collapses in grief at the loss of her family in the 2004 Indian Ocean tsunami, which followed a 9.1 earthquake in an epic catastrophe that killed an estimated 240,000 people.
Humpack blowing
A humpback whale blows air after resurfacing from the ocean depths of the coast of New Zealand.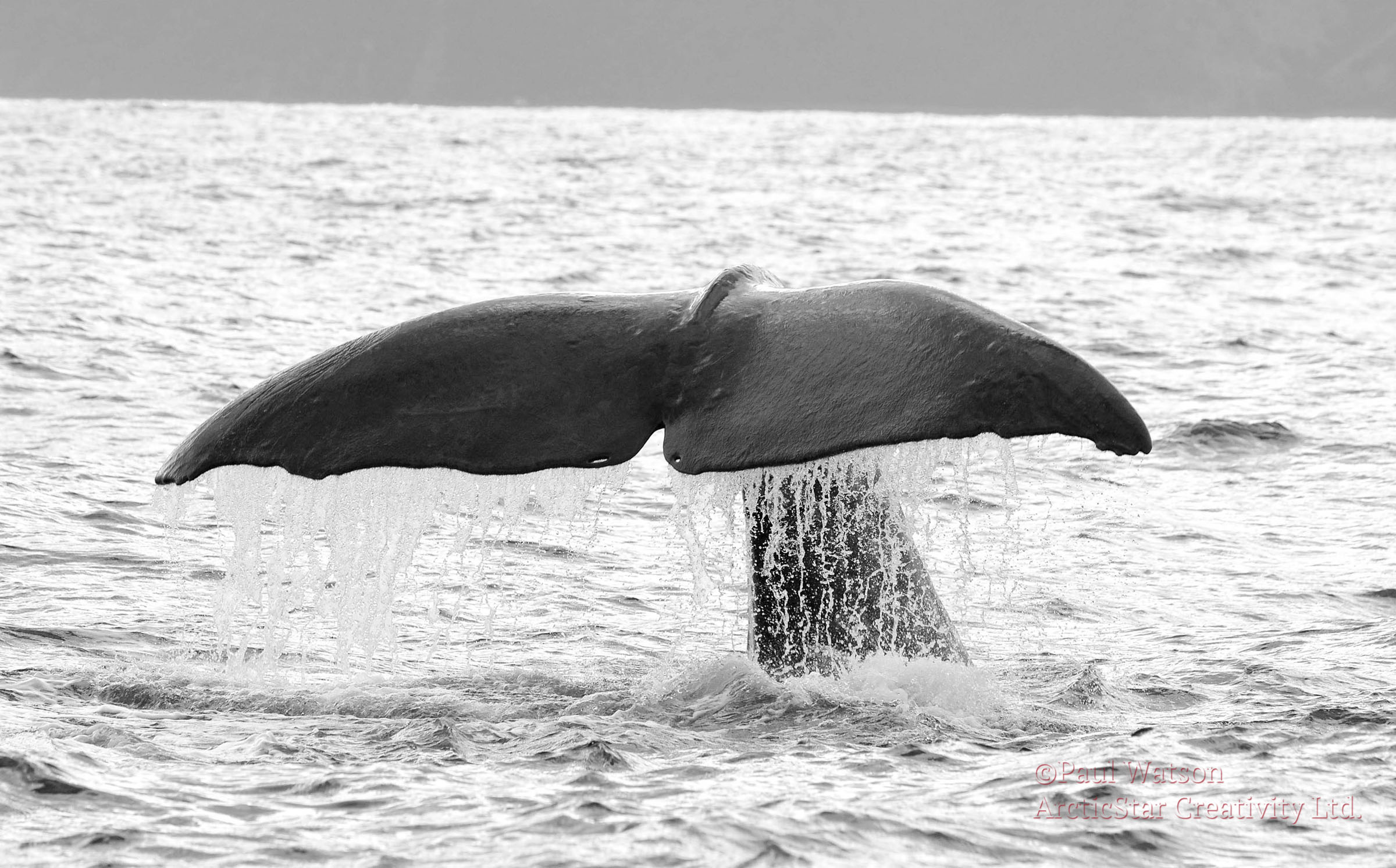 Going Down
A humpback whale heads down for a deep dive off New Zealand's coast.
Just hanging' . . .
An orangutan lazes in a tree in the Sumatran jungle.
What Price Nature?
Canada's wilderness was easy to protect when few people went there, but as pressure increases from mining and energy companies eager to encroach, there's little national debate about how far Canadians are willing to let them go.
Glacial Growth
Work Never Stops
Stone faced
Ancient stone faces peer out from eternity to visitors and worshippers at Cambodia's magnificent Angor Wat temple.
Aleppo, Syria
Latest
A slideshow of the latest images from award-winning photojournalist Paul Watson